Memory Care For Dementia & Alzheimer's Disease
Discover the soothing, supportive environment your loved one needs in our upscale community that feels more like a family. The Peaks at South Jordan Memory Care offers South Jordan, Utah, Memory Care suites for seniors living with Alzheimer's disease, dementia, and other memory loss illnesses. Here, every day is filled with new possibilities – to grow, strengthen connections, learn, and explore.
Our Memory Care experts will guide both you and your loved one through their memory loss journey, offering the soothing support your loved one needs, while helping everyone involved understand what changes to expect, and how we will work with you and your loved one along the way.
Moments
Ridgeline Management Company's signature program, "Moments" is developed to meet the needs of each of our residents through all stages of dementia. The program will attempt to maintain a safe, secure, and predictable environment that fosters a sense of independence and well-being. It will improve residents' self-esteem through meaningful activities designed around each person's interests, talents, and abilities.
Program Overview
Imagine all the ways your loved one can learn and grow surrounded by friendly peers and compassionate caregivers in our community designed just for them. Our secured environment offers easily navigable spaces designed for independence and exploration. Our expansive grounds provide a lush, tree-lined community where residents can relax, breathe the fresh Utah air, and take part in a variety of scheduled activities. Meals are served family-style in our friendly dining room, and residents enjoy nutritional snacks between meals.
Residents of our South Jordan, Utah, Memory Care community have their choice of luxurious apartments, with both studio and shared suites available. Our suites are warm and inviting, with plenty of space for the items that help your loved one feel at home. And every suite includes a full-size bathroom, helping your loved one retain their sense of dignity. Discover what else sets The Peaks at South Jordan Memory Care apart with a tour of our South Jordan senior living community.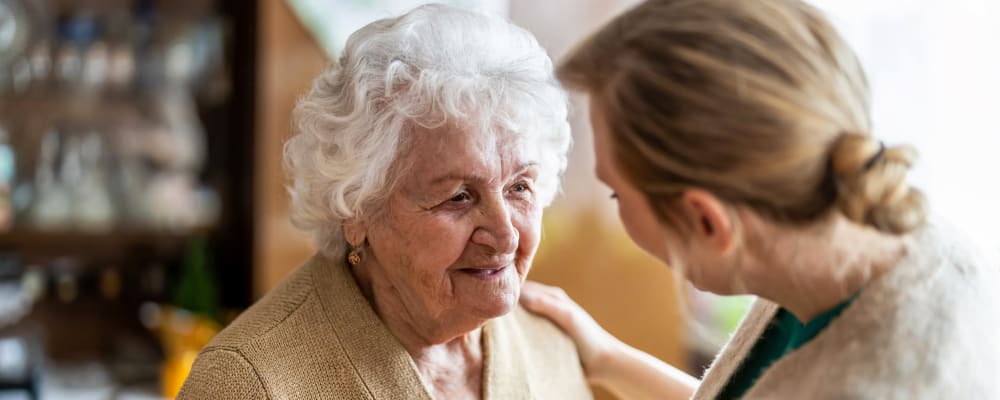 Benefits of living at a community-based Memory Care setting include:
Education and support for family members and friends to learn how to communicate and maintain relationships with those who are living with memory loss
Regular human interaction and programs to engage the memory-impaired individual in daily life, minimizing isolation
Diet and Exercise programming
Senior well-being monitoring and communication with family and health care providers
Secured community with keypad entry to minimize risk of wandering
Peace of mind for families, so the focus can be on maintaining relationships with the person living with cognitive losses to create joyful memories, allowing the community caregivers to care for the physical needs.